Welcome To The Abobo's Big Adventure Wiki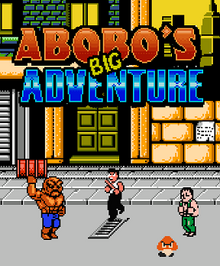 The Abobo's Big Adventure Wiki is the wiki about the flash game Abobo's Big Adventure that anyone can edit. The game can be found and played here. This flash game is a big tribute, and bloody love letter to the Nintendo Entertainment System released in the year 1985. The game's main playable character, and antihero Abobo from the Double Dragon video game series is a playable character in the game traveling through various worlds of the most popular NES games to save his son Aboboy from the kidnapers. The game was originally released on January 11, 2012, on the website "Newgrounds". The game was made by I-Mockery founder Roger Barr, programmed by Pestoforce, with the game's art, and animation was designed by Pox Box.
A Wikipedia article of the game is available on Wikipedia. Here's the link, https://en.m.wikipedia.org/wiki/Abobo%27s_Big_Adventure.
The Abobo's Big Adventure Wiki was founded on February 24, 2012 and currently has over 331 articles.

To-Do List
Make essential pages.

The main page about the game itself.
A page for each level.
The basic category tree.
Info boxes and other key templates.

Fully customize main page and other areas (theme, logo, etc.).
Figure out a style guide for characters, enemies, levels, etc.
Add pictures for each level.
Gallery